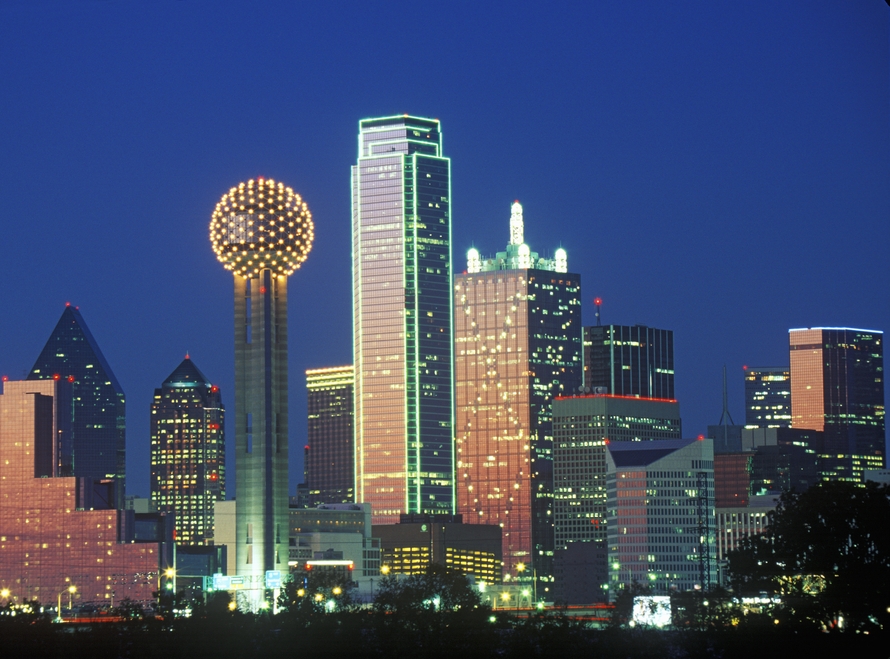 Dallas-Fort Worth with a population of 7.5 million people, has become the fourth most populated metropolitan area in the United States, ahead of Houston and behind New York, Los Angeles and Chicago.
At the rate of current growth (145,000 new inhabitants in 2017), they will represent a larger market than Chicago in 2030. This success is explained by the many assets of the city: it has the ninth airport in the world, the hub of American Airlines is ideally located in the center of the United States, with a cosmopolitan and multicultural population – which contrasts with the image often portrayed of Texas in Europe – and a diversified economy.
Dallas benefits from the business friendly approach of public operators in Texas and the metropolitan area; there is no state income tax in Texas. In addition, start-ups are developing in all sectors of the economy: transport, waste management, aeronautics, defense, financial services, electronics, high-tech, energy, etc.
It must be said that Dallas has lots of low-cost land and buildings and a large skilled workforce. It is also home to 21 Fortune 500 companies (AT & T, American Airlines, Texas Instruments, etc.) and 300 companies employing more than 1,000 people worldwide. The city has a very low unemployment rate (3.8% in 2018).
The two things that Dallas people hate about being associated with their city are, the assassination of President Kennedy and the inevitable television series of the 80s.
The second city of Texas that its inhabitants proudly nickname Big D., for Big Dallas, covers very contrasting social realities. The set of photos, texts and sound documentary offered to the visitor, in the exhibition "Dallas Big D" draw a portrait, far from these clichés, of this city, very green and very sparse, consisting mainly of individual houses and where the three main communities that make up its population of 1.3 million (40% Latino, 30% white and 30% African-American) live in closed neighborhoods.
Emblematic of American cities, Dallas is also the symbol of individualism and liberalism since in this state where the tax rate is zero, the public space is privatized as well as the public facilities and essential functions of the community. This produces hyper-secure and safe condominiums for some while others build homes and a socially supportive, friendly and creative life on what looks like wasteland. Lastly, this city in North America has an organization that brings it closer to African cities (objects of a previous exhibition in 2013) than the European urban model.
Like most US cities, Dallas people travel by car. This is what Benjamin did in the company of his frien the architect, traveling through the city and its surroundings explored under the sound of planes and vibrations of highway bridges, in which the song of birds floats: Dallas, nature is never far away. Throughout the meetings – anthropologist, economist, museum curator, young Latin artist … – another engine made its appearance: that of an urban universe in constant change.
DFW Airport greens the state power grid with the purchase of 100% renewable energy from Texas wind farms, directly benefiting local economies. Since 2010 the electricity network has grown from 8% renewable energy to more than 20%. DFW is partnering with Texas A & M Energy Systems Lab to adopt Continuous Commissioning to improve building heating and cooling systems, which has significantly reduced energy consumption at the airport.
In August 2017, DFW's fleet of compressed natural gas vehicles switched to renewable natural gas, reducing carbon emissions by 79%. As part of an innovative program, DFW completed a project with View in September 2017 to install intelligent dynamic glazing technology that optimizes window shade levels to improve passenger comfort.
DFW is upgrading LED ramp lighting to improve energy efficiency and operational performance at the airport. It is estimated that this project will save 3 million kilowatt hours per year (61% improvement) and an estimated annual electricity cost of $ 240,000. This effort also involved dumpter rental Dallas services so that pollution is kept at its minimum and landfills get all the debris and junk.